Well-earned retirement awaits Markku Koskinen of Port of HaminaKotka
01.12.2020
Markku Koskinen, Director, Traffic Operations, of Port of HaminaKotka will go on holiday in mid-December and start his well-earned retirement days next year. With a sea captain's training background, Markku Koskinen has worked in logistics in many different positions for a length of time. He has worked on almost all types of ships, from bulk carriers to passenger vessels.
After years spent at sea, his career on dry land first began in summer jobs as a port supervisor in ship services in Hamina and then as a port pilot. After that, his career continued as acting harbour master at the Port of Hamina and very soon in the permanent position of harbour master. As the harbour master, Markku performed official duties, in other words assisted maritime inspection and supervised ships as a harbour inspector. Later on, Markku worked, in addition to his actual work, as a part-time maritime inspector, ice class inspector and as the last seamen's inspector in the Eastern Gulf of Finland, confirming seafarers' employment contracts.
After working as the harbour master, Markku moved to the Port of Kotka in 2005 to work as traffic manager and was soon promoted Director of Traffic Operations. The Ports of Hamina and Kotka merged in 2011, and Markku continued as the Director of Traffic Operations of the new Port of HaminaKotka Ltd.
During his career, Markku has lived through the transformation of the port from a department of the city to a municipal business enterprise and further through two separate limited company ports to the current Port of HaminaKotka. Over the years, the port industry has changed tremendously, and so has the role of the port from an authority to a commercial operator and to being part of a national and international logistics environment.
"The work duties and work environment have changed a lot during my career, and this has kept up the interest. The port and logistics industries have taken a huge leap forward in the past 30 years or so, and it has been great to be in the front seat of developments."
In addition to his actual work, Markku has held many expert positions and positions of trust in the industry. Self-development has always been important to Markku. His interest in and curiosity about new things together with his readiness to get involved in various matters have taken him to the most versatile situations and events and have also involved some unbelievable twists.
Markku embarks on a new phase in his life with a nostalgic mind.
"Working at the port has been a very important part of my life, but now it is time to give room for other important things, too," says Markku. A manor house built in the 18th century near the eastern border of Finland in Hurppu will offer plenty of things to do in the summer, and the motorhome that replaced his sailboat will keep Markku and his wife on the road in the winter. Much of Markku's life has been about moving from one place to another, and the movement will not stop even after his work career. Markku Koskinen does not intend to leave the logistics sector completely, because his position as the executive director of the Finnish Transit Transport Association keeps him involved in the development of the sector also in his retirement days.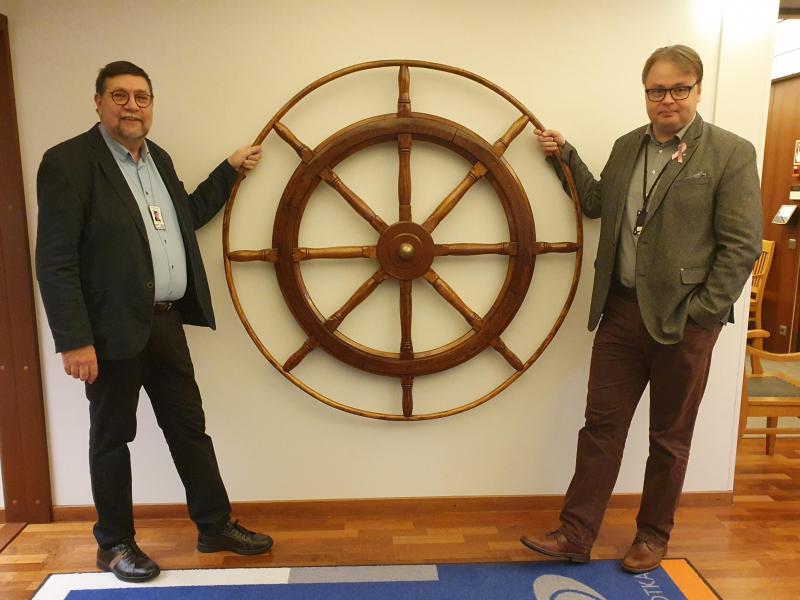 See all current articles